'GET AFTER IT' skort
'TREASURE' Dress
'GO THERE' Fleece Pant
'EARNED IT' Legging
'MADE IT' Skirt
Customer Reviews
05/16/2021
Crystal B.

United States
The best fitting skort I've worn!
Finally! a skort that fits my activity level! I always loved the idea of wearing skorts, but felt like they didn't work for my body, and I've tried on too many. But this skort fit so well! Just the right length, comfortable around my butt and hips, without bunching or riding up. And pockets! These are now my go-to shorts for running and hiking, or just wearing out and about. I've worn them almost every day, and for every activity. I need more of these in my life!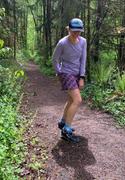 05/15/2021
Anonymous

United States
Wow, feels fabulous all over!
Fits nice, skirt part rides nicely, shorts part feels so comfortable. Love the inside pockets, LOVE the colors and that they are two different colors! Immediately got some for my daughter and niece!
05/12/2021
Summer M.

United States
Score with Skort
I have been wearing athletic skorts for about 18 years and I've tried lots of them. These are fav so that says something! I love the long undershorts.....they stay put and don't have rubbery elastic at the bottom like many styles do. Perfect pockets. Seriously comfortable. Rad colors and patterns. Thumbs up!
05/02/2021
Sheryl D.

United States
Damn Cool
We can't wait to pull our skirts onReady fir Summer Sun in Alaska
04/28/2021
Heather B.

United States