Customer Reviews
05/25/2021
Lauren G.

United States
My expectations were exceeded!!
These joggers were unexpected. Youer never makes anything I dislike, but I was thinking the material was going to be different, like the few materials you see of typical joggers. These are out of this world. The material is truly adventure proof...I went rock climbing in these babies and they held up. They are quick drying and wicking, and they don't pill. The fit is great, I'm 5'7" and about 165 lbs with curves and a muscular, athletic build, the medium is perfect for me. I need these now when they restock in the black and if they restock in any color!
05/22/2021
Natalie P.

United States
LOVE
Now that I own these, it's hard to wear any other pair of pants. I mean...what's the point? These are so comfortable, light feeling, and look/fit great. The zipper pockets are the perfect size for my phone and they keep it nice and secure. I was debating between the small and xsmall sizes, and honestly the xs might have been a little more form fitting, but I prefer a looser fit, so I went with the small and it worked out great. I never want to take them off!!
05/21/2021
Ragan A.

United States
05/21/2021
Jess Z.

United States
I wasn't a jogger pant gal until these...
I'd never tried a pair of joggers that worked for me, and I was convinced I wasn't cut out for the style--others I've tried made my hips looks oddly wide and were super unflattering for my thick muscular legs. But these went on sale, and they looked so cute I decided the worst that would happen is that I'd lose a little money on return shipping. I happen to be exactly between a size XS and S on the Youer size chart, and I ordered both (I'm 5'7", 135lbs for reference). Usually, when I'm between sizes I end up liking the smaller size better, because it tends to fit more snugly at the waist. I was amazed at these. They really do live up to the hype. As soon as they arrived I put them on and wore them the rest of the day, and every day since. Although both pants would work, I ended up liking the small better than the XS, because the fit in the hips and legs was more relaxed, and the waist was still snug and secure. My only complaint is that I'd love for these to be even an inch longer. They hit me a good 2.5" above the top of my ankle. This is the reason for knocking off a star, because otherwise they are totally awesome! Thanks for a great product, that I can feel great about buying--USA made and recycled materials, it doesn't get any better!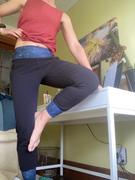 05/19/2021
Cailene G.

United States
New favorite pants!
I never want to take these pants off! They are perfect for every activity, including chilling on the couch or going for a full day hike. They are unique but still go with everything. I am 5'7, 135ish pounds and the small fits perfectly. They are also super flattering on the ****. I ran into someone on trail wearing the same pants and we bonded over how wonderful they are!